Shopping Cart
Your Cart is Empty
There was an error with PayPal
Click here to try again
Thank you for your business!
You should be receiving an order confirmation from Paypal shortly.
Exit Shopping Cart
Easing Change and Transition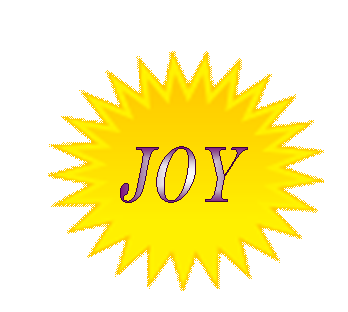 "You have to sniff out joy. Keep your nose to the joy trail."
Buffy Sainte-Marie
Congratulations you made a decision to Take a JOY Break! Enjoy this page and learn about the Emotional Scale and experience the rich content (always in progress) paired with Tips for raising your vibration allowing the flow of JOY to come your way.
Whether you are feeling just a little bit off, doing personal work or have big stuff going on in your life, it is always good to give yourself a break and stop looking directly at the things that are keeping you from feeling good. or causing a lower vibration. The intention of this page is to help you to return to present time and raise your vibration by taking a JOY BREAK . Give that energy you are wanting to transform a little space so that it can release.
"Learning to live in the present moment is part of the path of joy.
" Sarah Ban Breathnac
JOY is a high vibration measured at 20,000 Hz to Infinity and is commonly known to have the color of GOLD. As you learn to hold a high vibration more JOY will come by the Law of Attraction.
Excerpted from Abraham
Transformation begins with awareness, so where are you right now on the Emotional Scale?
1. Joy/Knowledge/Empowerment/Freedom/Love/Appreciation
2. Passion
3. Enthusiasm/Eagerness/Happiness
4. Positive Expectation/Belief
5. Optimism
6. Hopefulness
7. Contentment
8. Boredom
9. Pessimism
10. Frustration/Irritation/Impatience
11. "Overwhelment"
12. Disappointment
13. Doubt
14. Worry
15. Blame
16. Discouragement
17. Anger
18. Revenge
19. Hatred/Rage
20. Jealousy
21. Insecurity/Guilt/Unworthiness
22. Fear/Grief/Depression/Despair/Powerlessness
One joy scatters a hundred griefs.
- Chinese Proverb
Climbing the Emotional Scale is a process. Now that you see where you are, set your intention to raise your vibration and start feeling good again. Sometimes we Get Stuck and can't stop looking at what is keeping us at a low vibration. So when that happens and you can't seem to wind out of it, try bringing yourself to present time using the following tips...why not aim for a little play, laughter, peace and joy!
"The body heals with play,
the mind heals with laughter
and the spirit heals with JOY."
~Proverb
JOY BREAK TIP #One: Gratitude
What is Gratitude?
Gratitude is defined as "the quality of being thankful; readiness to show appreciation for and to return kindness" More on gratitude from Wikipedia
What are the Possibilities?
Gratitude has positive effects on the mind body and spirit such as:
reduced stresss

reduced anxiety

reduced depression

increased happiness

improved relationships

increased alertness

increased enthusiasm

increased determination

increased optimism,

increased energy.

increased desire to help others

increased desire to exercise regularly

more likely to achieve personal goals
It's True...Science and Gratitude
Through scientific studies on gratitude by Michael McCollough of Southern Methodist University in Dallas, Texas, and Robert Emmons of the University of California at Davis, both psychologists, daily gratitude exercises result in positive effects on the mind, body and spirit. See More about the science
Gratitude and Refocusing
Being grateful for the things you do have in your life allows you to refocus from the desire for things to be different, wanting things you don't currently have, or a general sense of lack. Making gratitude a part of your daily life, allows you to shift to having an abundant life right now.
This is a lovely "Gratitude Song" featuring the inhabitants (human and non!) of Northwest Arkansas. They've got it right...Listen Here
If you have made a commitment to feeling good, and are going through a personal transformation process, gratitude is in places you would have never expected. At this point you can look at anything that is seemingly bad or negative and more easily refocus to obtain the learning in these situations. Gratitude then comes from seeing such situations as an opportunity to grow and personally evolve.
Alanis Morisette's deep, emotional, and heart felt song Thank You fully expresses gratitude for transformation.She got the learning Listen Here.
OK that is on the serious side let's bring the energy back up with Glad by Traffic Listen Here

Gratitude in Your Daily Life
1. Keep a Gratitude Journal - Put the pen to paper and write down things you are grateful for each day. There is an added energetic benefit in this process, don't use the computer. Make a commitment for 30 days and experience the shift that occurs. Get a notebook and pen you really like. Decide where to keep them, perhaps your bedside.Start your day with a gratitude writing and also allow time to reflect on the day's gratitudes at the end. Consider the most basic things like clean water, food, shelter and clothing.
For each new morning with its light,
For rest and shelter of the night,
For health and food, for love and friends,
For everything Thy goodness sends.
~Ralph Waldo Emerson
Are you thankful for great memories and those who were involved? Listen to "Thank You" by Dido Click Here
Are you thankful for friends who helped you in a time of need?
That's What Friends are For - Dionne Warwick and Friends
Read about the contributions of this song on Wikipedia
Here's some assistance from Deepak Chopra with his Gratitude Meditation.
2. Walk in Gratitude - go for a walk and be very aware and present. Give gratitude to all things you are drawn to welcome the surprises that come from just allowing
Tim Middleton expresses his gratitude for nature in his "Gratitude Song" paired with his amazing photography. Listen and View Here
Watch for the incredible animals in our world. What animals have you had the good fortune to observe? Keep watching and observing. See the possibilities by viewing "What a Wonderful World: With Gratitude To The Animals" by EVOLVE! Campaigns click here.
You can also repeat the things you wrote in your gratitude journal that morning. Creating a mindful meditation that unfolds with each step of your Gratitude Walk.
3. Do the Gratitude Dance! Watch this Youtube video the Original Gratitude Dance from The Gratidudse.com

4. Participate in the GoGratitude Experiment. Have you heard about it? Over 1.5 million people have participated. Below excerpted from there website GoGratitude.com
"To facilitate this life-altering process, we've specially prepared a series of 42 short, inspiring and instructional "knew views on Gratitude" messages which will be delivered straight to your heart, mind and email inbox, one day at a time, over a 42 day period. We've crafted these unique, whole-brained messages to be super easy to digest by appealing to both the left and right brain."
"As you embark upon this magical 42 day journey, you'll learn the simple, yet powerful, science and art of using the Master Key of Gratitude"Go to GoGratitude.com watch the Master Key Flash Movie and sign up for the email. Just a suggestion the option is yours.
5. Appreciate yourself. Yes, appreciate yourself! Here's one way to do that. Think of 5-10 people you admire. then think of 5 qualities they possess. Now, come up with 5 qualities they have in common. Guess What? We are all mirrors for each other , and you actually possess those qualities yourself. Yes, it's true so own that by fully embodying these characteristics. As you appreciat those qualities in yourself, you will experience their expansion via Law of Attraction.
Inspiration from Katy Perry in her song Firework Ignite your light and let it shine value yourself! Listen Here
Know and honor yourself ... John Denver says "Thank God I'm a Country Boy". In this live performance you can feel his joy for country music, the fiddle and even the sunrise and the cakes on the griddle Listen Here
Honor yourself by acknowledging what you love. Eric Clapton, a personal favorite, professes his love for screaming guitars and '57 Chevys honoring his rock and roll heart. Listen Here
Another way to appreciate yourself is to do mirror work.
Stand in front of a mirror

Feel your feet

Feel your belly

Look into your own eyes and take a deep breath

Then say "Thank you for being here" so that the consciousness of your body and being knows that they truly matter.

Take another deep breath, or two, or three. :-)
6. Make a Gratitude Mandala. Art is a fantastic way to express gratitude and discover some insights about your own gratitude. Resources for history, meaning and instructions for making a Mandala. Here's one artist's Example of a Gratitude Mandala.
Start with a circle using the medium of your choice. It could even be 3-D. Your intention is powerful, so hold the intention for gratitude while creating your Mandala. Just allow the colors and shapes to come...no thinking here. When it's complete determine the top, it may be different than you expect. Now sit back and observe. Choose a title for your mandala. Allow the meaning of the colors and shapes to come forth while letting go of any preconceived notions about them. With all this information decide on a theme.finally, express the information in one or two sentences for an artist's statement.
Now you have a visual reminder of gratitude you can tune into each day. Have fun with this project.
Of course, any form of art while holding the intention of gratitude is very powerful. Whatever your gratitude project is, please take a photo and share it with us on the TAP to Access JOY Facebook. Click that "LIKE" button and share the page with your friends. with gratitude.
"The single greatest thing you can do to change your life today would be to start being grateful for what you have right now. And the more grateful you are, the more
you get." Oprah
Note: This site makes no claim to ownership of above videos. They are provided for reference and commentary only.
Keep a positive attitude no matter what is going on in your life or the world.


Listen to music, dance or sing.


Use humor, have a good laugh, with jokes, funny photos, videos, movies, emails. etc.


Nurture yourself by taking a bubble bath, hot tub or getting a massage.


Move your body, get some exercise, go for a walk, bike ride, swim or hike....whatever it is you enjoy!


Observe plant life in your home, outside, your neighborhood, your community and while traveling . Look and notice what catches your attention and spend some time observing it. Plant something and watch it grow,


Spend time around animals. Hug a pet go to the zoo or observe wildlife in their natural habitat.


Spend time around a baby or young child. Hold a baby. Talk to a young child, they say the darnedest things.


Use your imagination, your subconscious mind does not know the difference between reality and your imagination. Really experience it with all your senses and make it real.


Stay in present time. Many worries and negative emotions come from thoughts from the past or future. Use your five senses what do you see, hear, smell, feel or taste? Which sense is your weakest? Use that sense to bring you to present time if you find yourself drifting off.


Be aware of how you are feeling and create a desire to feel differently. How do you want to feel? Try giving yourself 17 seconds to become aware and shift your attention.


Use your intention to experience JOY. Your intention is very powerful.



Give to someone else. The JOY if giving is amazing for giving is receiving.
"It is OK to feel more Joy than the people around you. It is one of the greatest gifts we can give. They need our Joy, not our sadness." Anonymous .
With those words I invite you to share this page with others and please bookmark it and come back yourself.
Sometimes we need a little help...
While the content of Take a JOY Break is certainly helpful in raising our vibration, shifting our perspective and allowing us to climb the emotional scale, it is also part of the transformation process to realize when help is appropriate. If you keep running into the same triggers, are stuck on the lower end of the emotional scale, or don't know what the next step to feeling better is, please contact Suzanne for a free 20-minute Consultation.
GOT GREAT IMAGES TO SHARE?
Still working on that rich content.....slide shows, videos and images will be coming soon. If you have images you'd like to share, please connect with Suzanne. Looking for images of nature, joyful moments, pets, babies, children, dancing, anything funny, wildlife or nurturing etc.
Disclaimer
The information and coaching provided is intended to educate, inform, amuse, and inspire you on your personal journey. It is not intended to replace a one-on-one relationship with a qualified health care professional and is not intended as medical advice, diagnosis, or treatment. You are encourage to make your own health care decisions based upon your research and in partnership with a qualified health care professional. Never discontinue medications without medical advice.
/